Reading Easter rail works to benefit commuters 'immediately'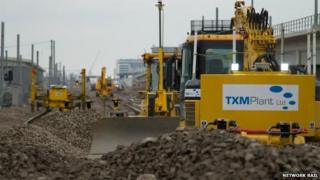 People travelling from London through the Thames Valley to the west and Wales should feel the benefits of Easter engineering work immediately.
Commuters should start to see "a marked reduction" in delays through Reading, James Pritchard from Network Rail said.
Trains between Didcot Parkway and Hayes & Harlington were replaced by buses from Good Friday until Easter Monday.
Services resumed on the Great Western mainline after more than 1,200 staff worked on replacing signals and track.
The project to the west of Reading should remove a bottleneck on the network.
Network Rail live tweeted its work across Easter despite criticism it was in PR overdrive after over-running engineering work at Christmas.
More engineering work is taking place this week to enable work on Crossrail.
An amended timetable is in force on all routes to and from London Paddington from Tuesday to Saturday while services between Hayes & Harlington and Didcot Parkway via Reading will be suspended on Sunday.