Dispute over jobs and catering on new Hitachi high-speed trains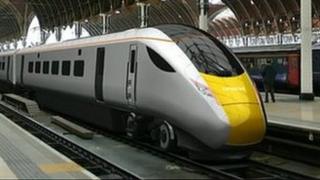 The RMT union has declared a dispute over First Great Western's plans to axe guards and buffet cars on the new Hitachi Inter City Express trains.
The union said it was taking action to retain a guard on every train, "not a diluted customer service role" and full buffet car facilities.
First Great Western denied claims that jobs would be lost.
The train company said having drivers operating the doors using in-cab CCTV was safer and quicker.
The first Hitachi trains will run on the Great Western main line from 2017 and the East Coast main line from 2018.
The new trains are being introduced under the Intercity Express Programme (IEP) on routes between London Paddington and Oxford, Bristol and South Wales.
RMT General Secretary Mick Cash said: "They [First Great Western] are pressing ahead with proposals that will allow for driver only operation with the sacking and reducing of the safety critical operational role of train guards/conductors."
The train firm said drivers would be in sole charge of doors on the new trains.
It said research showed in-cab CCTV allowed close monitoring of the platform by the driver and would cut journey times.
About 2,500 rail workers, including drivers, guards and station staff, will vote on whether to launch a campaign of action, the union said.
Buffet cars could also be replaced with just a trolley service under the plans.
The RMT said it was seeking an urgent meeting with the company.