Some highs and lows from the Midlands campaign trail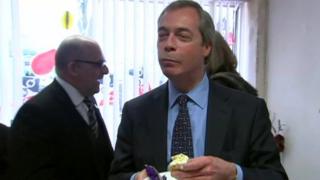 No question about the most memorable moment of my week. It came during a spectacularly sunny Tuesday in the Black Country
Nigel Farage had arrived paradoxically early in UKIP's target seat of Dudley North after fog had forced the curtailment of earlier planned visits in Staffordshire.
During an unexpectedly detailed interview he told me he expected electoral reform to be one of the dominant themes of the next Parliament.
He didn't entirely rule out my "many a true word spoken in jest" suggestion that he could consider a Faustian pact with the Liberal Democrats.
But then it occurred to me that his remark could be seen as a tacit admission that UKIP are set to under-achieve in this election by comparison with those heady expectations of just a few months back.
In an age when most political leaders are pre-programmed to put an unwaveringly positive gloss on their parties' fortunes, Mr Farage was by contrast predictable only in his unpredictability.
"We have slipped back a little lately," he acknowledged after a recent series of disappointing poll ratings. Watch this space.
'Economic powerhouse'
On Wednesday, Ed Miliband and George Osborne paid simultaneous, but suitably unconnected, visits to a region which has more at stake than most in their rival interpretations of English devolution.
George Osborne's vision of a "northern economic powerhouse" is clearly intended, among other things, to put peer pressure on Midlands councils to follow suit, and to join Birmingham and the Black Country's proposed combined authority through which extra political and spending powers could be devolved.
But there is a political conundrum here. Such a combined authority depends on predominantly Labour-controlled councils.
Indeed it is the one Conservative council, Solihull, which is the most sceptical about the whole idea and the Conservative parliamentary candidate there has voiced his objections in no uncertain terms.
Meantime during his visit to the University of Warwick, Mr Miliband attacked the chancellor for granting powers and extra clout to councils in and around Greater Manchester which were not on offer to other places, including neighbouring Coventry.
Not yet at least.
As for whether or not Lady Godiva's city will eventually be persuaded to join the Birmingham and Black Country initiative, this like so much else is on that ever-lengthening list of political "works in progress" hereabouts.
'Protest vote'
Close of nominations on Thursday brought confirmation that for the first time the Green Party will contest all 63 seats in our area.
They clearly benefit not just from the obvious environmental concerns of their supporters but also from the left-of-centre protest vote for "none of the above parties".
The Greens are the official opposition on the council in Solihull. But we should take care not to overdo the talk about a "Green surge" - their share of the vote actually fell in last year's European elections.
Have I missed any one?
Oh yes, the Liberal Democrats.
Suspicions that they had been struggling to field a full slate of candidates were aroused by their website which until two weeks ago named only 29 in our region, in fewer than half our local seats.
Local candidates
Close of nominations confirms that in the event they are indeed contesting all 63. But with how much commitment?
From my colleagues in BBC newsrooms right across the Midlands come reports of the difficulties they are having in finding local candidates to take part in programmes.
There is an obvious concern that they could be facing yet again the dreaded general election squeeze, ironically compounded this time by their role in the coalition government.
On one hand they could be taking the blame, for example over student tuition fees; on the other, getting little of the credit for the raising of the personal allowance to £10,600, a Liberal Democrat initiative for which the Conservatives are not shy about claiming credit.
This, at least, is how things seem to me on Friday. But in this hotly-contested campaign, the picture could look significantly different by tomorrow.
Let alone Sunday.
To find out, I recommend you join me for this weekend's Sunday Politics Midlands live on BBC One from 11:00 BST on BBC One.
I'll be joined by Mark Pritchard, defending The Wrekin for the Conservatives; Jack Dromey, defending Erdington in Birmingham for Labour; Charlotte Barnes, the Liberal Democrat challenger in Ludlow; and Natalie McVey, the Green Party candidate for Wyre Forest.