Two named after church death car crash in Crowborough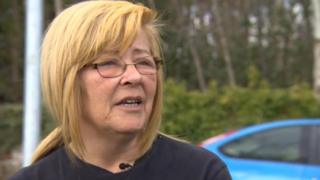 Two men who died when their car hit a church wall have been named.
Kyle Careford, 20, and Michael Owen, 21, from Tunbridge Wells, were killed in Rotherfield Road, Crowborough, at about 00:40 BST on Sunday.
The pair were travelling in a Renault Clio and were pronounced dead at the scene.
Mr Owen's mother, Kat Weston, said: "It's such a shock to know that one day you're telling them off and the next they're not here anymore."
She added: "I don't know how I'm going to cope, I don't know how my family is going to cope - my daughter especially.
"But we will get through it as a family and hopefully Karl's family will do the same and we'll all get through it in our own way."
Jonathan Kettle, who lives nearby, said: "The scene that we saw was just shocking... the car was just demolished."
PC Doug Park, from Sussex Police, said: "We have obviously spoken to many individuals who were around at the time.
"We've been knocking on doors asking for help and we would like any person who has witnessed the event to please come forward and help us with the investigation."