Cornwall freed seal Sponge Bobby killed in 'boat strike'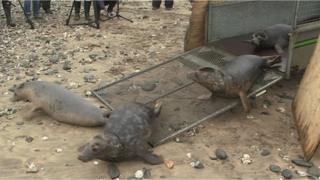 A seal pup has been killed, possibly by a boat, a month after being released into the wild from a sanctuary.
The seal, called Sponge Bobby, was found with head injuries including a broken jaw on the beach at Highcliffe, near Christchurch.
It was identified as coming from the Cornish Seal Sanctuary by a tag on its flipper.
Wildlife experts warned boat users to beware of marine life such as seals, whales and dolphins.
The female grey seal, discovered on Monday, was released with three others by the seal rescue centre at Gweek on 12 March.
Emma Rance, marine conservation officer at Dorset Wildlife Trust, said: "The injuries to its face suggest a boat strike.
"The jaw is seriously broken, possibly by a boat or a Jet ski."
She said the injury could have been inflicted accidentally, but boat users were breaking the law if they harassed sea animals.
'Horrendous injuries'
"We don't know how many animals are injured every year, because not all of them are washed up," she said.
"Marine animals like seals and dolphins are curious creatures so if people are aware of their presence they should cut their engines and be certain that the animals have moved on."
Tamara Cooper, animal care supervisor at the seal sanctuary, said Sponge Bobby was brought in to the centre last November aged about four weeks old.
She had been found with breathing problems at Widemouth on the north coast of Cornwall.
"You give them the best second chance you can, fixing them up for release, but then it's down to them," she said.
"We are realistic enough to know that not all will survive but nevertheless it was shocking to hear of her horrendous injuries."