53 marathons runner Amy Hughes in Oswestry-London bid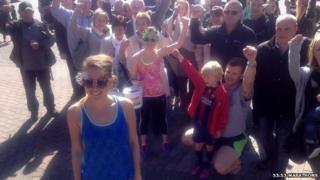 A woman who completed 53 marathons in 53 consecutive days last year is set to run more than 200 miles from Shropshire to London this week.
Amy Hughes will then be accompanied by Blue Peter presenter Lindsey Russell in the London Marathon, which is 26.2 miles, on 26 April.
Ms Hughes started her challenge on Saturday in her birthplace of Oswestry.
The 27-year-old, who lives in Manchester, is fundraising for cancer charity Isabelle Lottie Foundation.
She said her marathons last year inspired her to "continue fundraising while trying to spread the fitness bug".
Her schedule includes:
Oswestry to Telford - 33 miles (Saturday)
Telford to Birmingham - 35 miles (Sunday)
Birmingham to Rugby - 35 miles (Monday)
Rugby to Northampton - 22 miles (Tuesday)
Northampton to Luton - 37 miles (Wednesday)
Luton to St Albans - 12 miles (Thursday)
St Albans to London's Trafalgar Square - 25 miles (Friday)
London Marathon (Sunday)
Ms Hughes ran more than 1,300 miles last year when she completed 53 marathons during August and September.
Her feat raised more than £53,000 for the Isabelle Lottie Foundation, which supports children diagnosed with brain tumours and their families.