Former South East England MEP Ashley Mote denies £500,000 fraud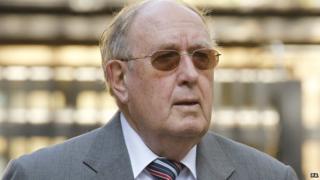 A former MEP fraudulently claimed almost £500,000 in European Parliament expenses, using some of it to fund his domestic court battles, a court heard.
Ashley Mote, 79, who sat as an independent after being thrown out of UKIP, denies 11 fraud-related charges.
The jury at Southwark Crown Court was told the offences were alleged to have taken place between November 2004 and July 2010.
Mr Mote, from Binsted, Hampshire, stood down as South East England MEP in 2009.
He denies four counts of obtaining a money transfer by deception, three of false accounting, two of fraud, and one each of acquiring criminal property and concealing criminal property.
Prosecutor Jonathan Davies told the court that as an MEP, Mr Mote was entitled to claim expenses which included a Parliamentary Assistance Allowance, or Secretarial Allowance, to help fund his work.
'Submitted false claims'
Jurors heard some of the money Mr Mote allegedly made from the fraud went towards funding legal costs after he was prosecuted in the UK for benefit fraud.
Mr Davies said after Mr Mote ceased to be an MEP he "abused that allowance by submitting false claims for payment for work".
He told the European Parliament work had been done by two organisations, the Better Off Out Fund (BOOF) and Direct Action Resistance To Tyranny (DARTT), on his behalf.
It is alleged neither conducted any work for Mr Mote, who made claims of £16,000 against BOOF and £54,000 against DARTT.
Mr Mote is also said to have falsely claimed £5,000 a month for work he claimed was carried out by Estonia-based company ICOS (Information Centrum Owned State).
He was elected a UKIP MEP for South East England in 2004.
Shortly before he took up his seat, he was thrown out of Nigel Farage's party because he was being prosecuted by the Department for Work and Pensions for benefit fraud.