Have we fallen out of love with Tesco?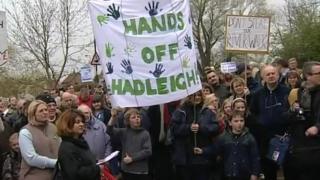 Once associated with market dominance and expansion, Tesco has reported the worst results in its history. Have people fallen out of love with the supermarket giant?
Tesco has reported a statutory pre-tax loss of £6.4bn for the year to the end of February, compared with an annual pre-tax profit of £2.26bn a year earlier.
Its chief executive Dave Lewis said the results reflected "an erosion of our competitiveness over recent years".
But what does the public think?
'Cynicism has built up'
Leon Mallett, who works in marketing for a technology company, still shops at Tesco and finds it weird that so many people have rejoiced about its troubles.
"A lot of British people seem have a strange desire to see big British companies like Tesco fail," he says.
"I think a lot of people are just cynical in general about people and businesses getting too big for their boots."
He says Tesco has been been one of the greatest success stories in UK retail over the past 30 years.
"I guess a lot of cynicism has built up over that time," he says.
"Now that Tesco is in trouble, people feel like their cynicism was right all along, and of course we all love being right."
Mr Mallett, who lives in Sheffield, prefers to shop locally when he can, but goes to supermarkets for convenience or when he is in a rush.
"I'd choose to go to a UK-owned supermarket like Tesco or Sainsbury's, rather than a multi-national like Asda-Walmart," he says.
"While many people love seeing Tesco flounder, it seems people are more than happy to have an American retailer like Walmart being successful."
Shopping ethically
"I would like to take credit for it but I think it's a lot to do with selling burgers with horsemeat in," says scriptwriter Joseph Wilde in reaction to news about Tesco's losses.
Tesco battled to build a supermarket in his home town of Hadleigh, Suffolk, for so long he was inspired to write a play about it called Last of the Pigs.
Mr Wilde has not shopped at Tesco for about four years.
He believes there is a greater focus on shopping ethically now, which could have affected Tesco.
"I think it's becoming more popular to look at the way corporations operate and where they get their produce from," he says.
"Obviously Tesco's PR isn't working for them."
'Zenith of corporate arrogance'
Chris Chalkley, chairman of community group the People's Republic of Stokes Croft, is among many people who campaigned against a Tesco opening in the Stokes Croft area of Bristol.
When the store opened it led to two nights of violent clashes between protesters and police.
"With Stokes Croft we saw a zenith of corporate arrogance with Tesco assuming a right to take control of everything," he says.
"It seems appropriate that the arrogance has had its comeuppance."
He used to shop at Tesco but has not been in any supermarket for about seven years, as he now prefers to shop at independent stores.
"The change of lifestyle is extraordinary because you have a proper relationship with the people you buy your food from," he says.
This is in contrast to supermarkets, that are "taking away the last vestiges of human contact" by replacing checkout workers with machines, he says.
Mr Chalkley said the Tesco store in Stokes Croft was used but not well used.
"There's a little corner shop and I'm absolutely convinced that many of the customers shop there out of principle, even knowing it's more expensive."
'Out of fashion'
Roger Smith, from Pinchbeck in Lincolnshire, supplied Tesco with flowers until he retired two years ago.
He says Tesco was "very good" on the one hand because they kept the business in work, but they were a "very demanding" company to work with.
He prefers to shop at Aldi, Morrisons or Asda, but that is more because of price than principles.
"We sometimes go to Tesco but not very often," he says.
"I think it can be a little bit dear."
He does not find Tesco stores "very appealing" to walk around, and considered other stores to be better set out.
"I don't think people like the big stores, it's gone out of fashion."
Town 'needs' mothballed Tesco
Adrian Lambert runs a gift shop called Greetings in Chatteris, Cambridgeshire, where a huge Tesco store was mothballed by the company after £22m was spent on it.
Chatteris has no supermarket, and despite running a small business, Mr Lambert wants the Tesco store to open.
"People have to travel to Ely or March, which are about 14 miles to both of those, to go to the supermarket," he says.
"For little retailers like me, the last thing we want is for people to go to another town."
He still shops in Tesco but thinks it has become "more expensive and the quality has dropped" recently.
Whatever happens to Tesco's fortunes in future, he hopes the mothballed store in Chatteris will not remain empty.
"It would be nice just for somebody, whether it was Asda, Morrisons or Tesco, to take over the site because there is a need for it," he says.