Robert Butler convicted of conspiracy to burgle across East Anglia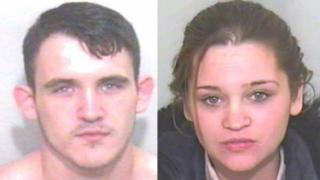 A man has been convicted of conspiracy to commit burglaries across East Anglia and Kent and will now be sentenced with four others.
Robert Butler, 31, of Green Lane, Dagenham in east London, had denied the offence at Ipswich Crown Court, but a jury found him guilty.
Four other people had already admitted conspiracy at earlier hearings.
Essex Police said about £500,000 worth of property had been stolen in a "significant number" of burglaries.
As part of the investigation, a video of police vehicles being rammed on the M11 in Essex and the M25 in Hertfordshire was made public last year.
Luke Wall, 24, of Leicester Road, Tilbury in Essex admitted conspiracy, but a charge of dangerous driving, which he denied, was not pursued by the prosecution.
The other three defendants who admitted conspiracy were Joseph Mallon, 20, of Fanshawe Road, Cambridge; Teresa Conners, 23, of Montell House, Tilbury and Kyle Shillingford, 27, whose address was given as HMP Chelmsford.
A date has not been set for sentencing.