Afghan canal crash soldiers were 'trapped' in vehicle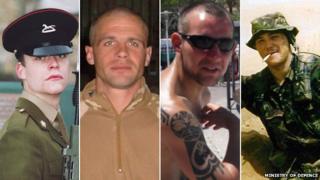 An inquest into the deaths of four soldiers in Afghanistan has heard they were trapped inside a 20-tonne armoured vehicle after it rolled into a canal.
C/Sgt Martyn Horton, L/Cpl David Ramsden, Pte Douglas Halliday, and Pte Alex Isaac, died on 23 June 2010.
A court heard the vehicle collided with a parked Afghan National Police car before overturning in the water.
The coroner said the speed of the vehicle was a contributory factor to the crash.
The soldiers were responding to reports of an insurgent attack at a police checkpoint near Gereshk.
The hearing, at Salisbury Coroner's Court, resumed on Monday after being partly heard in November.
It heard the darkly-painted police car was parked at a right angle, with the front end protruding into the soldiers' path, and it did not have any lights on.
The Ridgeback vehicle the soldiers were in had been travelling at a speed estimated between 30 and 40mph.
The maximum speed limit on the road was 19mph.
Coroner David Ridley said the Ridgeback, like an emergency response vehicle in the UK, would be permitted to exceed the speed limit.
He said L/Cpl Ramsden - described by comrades as an "excellent" driver - probably did not see the police car until after the collision because of its "inconspicuous presence".
'Deeply missed'
Pte Michael Peers, who managed to escape from the submerged vehicle, said the occupants were wearing seatbelts and opened the back hatch near the water, as was recommended.
The inquest heard the dead soldiers were unable to escape due to darkness, cold and murky water, the impact of the crash and because they were wearing body armour.
C/Sgt Horton, L/Cpl Ramsden and Pte Isaac also suffered blunt impact trauma to their heads, leaving them unconscious and groggy.
The coroner will write a report to help prevent future deaths, raising seven points of concern including:
Front suspension
Lighting
Tyre pressures
Bolts in Ridgeback vehicles
Denise Owen, mother of Pte Halliday, said the soldiers were "deeply missed".
"While the war in Afghanistan may be over, we hope that the sacrifice made by our beloved soldiers will not be forgotten," she said.
A post-mortem examination found the cause of all four deaths was drowning.
L/Cpl Ramsden was in the 1st Battalion The Yorkshire Regiment while the other soldiers were from the 1st Battalion The Mercian Regiment (Cheshire).
C/Sgt Horton was from Runcorn in Cheshire, L/Cpl Ramsden was from Leeds, Pte Halliday was from Wallasey in Merseyside and Pte Isaac was from the Wirral.