London Marathon woman Tara Twyman runs seven more marathons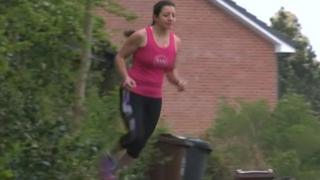 A woman who ran the London Marathon is following it with another seven more runs of the same distance in a week.
Tara Twyman, from Uckfield in East Sussex, who finished Sunday's race in three hours 37 minutes and 26 seconds, started Monday's 26.2-mile (42.2km) run from her home town.
It will end in Hildenborough in Kent, at Double Olympic champion Dame Kelly Holmes's Cafe 1809.
"This time next week I'll be collapsed in a heap," said Ms Twyman.
Emotional run
She said she took the London Marathon at a steady pace to save her legs.
"It's a really good idea to put your name on your shirt when you run a marathon and strangers will scream your name with such passion," she said.
"It makes you all emotional."
Some of Ms Twyman's marathon routes will take in the Cuckoo Trail and Forest Way Country Park but Thursday's will be 105 laps of the track at Lewes Athletics Club, where she is a member.
"My little boy, who is two, is going to run some of it with me and my dad is going come and walk some," she said.
Her final challenge will be Sunday's Three Forts Challenge on the South Downs.
She is aiming to raise £5,000 for the International Chandramauli Trust, which runs a school in India. It was started by her friend Lucy Guest, also from East Sussex.
"It's a wonderful thing which nobody knows about," she said.
"I thought I would try to do something as remarkable as I can manage to try and get people to notice what she is doing."