Eleven-year River Wye clean-up completed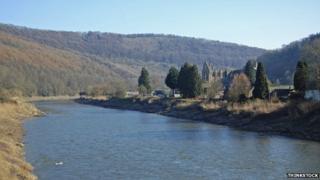 More than 120 tonnes of rubbish, including whole cars, has been removed from the banks and waters of the River Wye completing an 11-year project.
Volunteers estimate they have cleared a total of 1,000 miles of bank along the 134 miles (215km) of the river and its tributaries.
The work also highlighted 60% of the litter collected upstream from Hereford was agricultural plastics.
Much of the Wye is in an Area of Outstanding Natural Beauty.
'Agricultural litter'
The clean-up was organised by the Wye and Usk Foundation (WUF) working with the River Wye Preservation Trust, the Wye Area of Outstanding Natural Beauty and Keep Wales Tidy.
Tony Norman, from WUF, said: "As a farmer, my pride at the achievements of these volunteers is tinged with frustration that so much of the litter originated from agriculture.
"It is the actions of a few that are giving the sector as a whole a bad name.
"One of the project's legacies is that many of those who took part will continue to keep the River Wye the special place it is for everyone to enjoy."
Other items recovered included cookers, computers, microwave ovens, a practice grenade, a guitar and a bag of dead moles.
The source of the Wye is in Plynlimon, in Ceredigion, from here it passes through Powys, Herefordshire, Monmouthshire and Gloucestershire en route to Beachley, near Chepstow.
A ceremony to mark the end of the clean-up, which started in 2004, takes place later on Monday.