Could Birmingham be a running capital?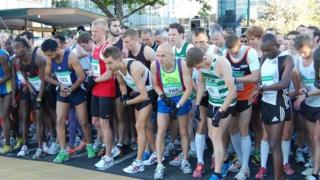 Birmingham hopes to put itself "on the map" by becoming known as the European Capital of Running. What do the hosts of existing running events think of the plan?
England's second city may have hosted an annual half marathon in recent years but it is fair to say Birmingham is not widely known as a running destination.
Birmingham City Council hopes this will soon change, as it is investing millions of pounds in an effort to become known as the European Capital of Running.
Steve Hollingworth, the council's assistant director for sport and events, said it "presents an opportunity to promote healthier lifestyles across the city".
But what do those who stage England's major running events think of Birmingham's bid?
Newcastle
The Great North Run is now the largest half marathon in the world, with 54,000 runners taking part.
It begins in Newcastle upon Tyne and ends in South Shields.
Carol Bell, head of culture and major events at NewcastleGateshead Initiative, said the wider North East has "benefitted massively" from the half marathon in the 33 years it has been held.
"You only have to be in the city at the time to get a feel of the difference in terms of people who come to stay in our hotels and visit friends and family," she said.
The event brings £16m into the local economy every time it is held, according to an economic impact study.
Every runner spent about £200 in 2010 and their friends and family spent further money on accommodation and food.
Ms Bell said a wider programme of cultural events has developed around the Great North Run, making it a "real destination weekend event".
"I'm sure Birmingham will look to do this and not just focus on the sport but look at the wider cultural offer," she said.
"I wish them the best of luck. As long as we are not in competition with each other I think it makes sense."
London
The London Marathon brought £110m a year to the local economy according to the most recent economic impact survey, and the amount is expected to have risen since then.
Its chief executive Nick Bitel said there is scope for lots of cities to become known for running.
"There's a big trend for large-scale events with people travelling to take part in them," he said.
He said there is no reason why Birmingham cannot benefit hugely from so-called "sports tourism", but the local economy is not the only way an area can benefit.
"It's about inspiring people to take part in sport and change their daily lives, making a city a healthier place," he said.
"Something like the London Marathon encourages people to be more healthy and run on a regular basis.
"Birmingham has some fine events but they are not up there with the Great North Run or the London Marathon. I think the project is more about getting it into the zeitgeist of Birmingham and making people in Birmingham more active.
"A lot of the work they are doing is grassroots running, rather than major events."
Birmingham City Council is seeking to raise the city's profile as a whole and Mr Bitel said the marathon has helped do this in London.
"It is shown on television around the world and that's major advertising that you can't buy," he said.
"That sort of coverage is the sort of coverage that cities would love to have."
Brighton
The Vitality Brighton Half Marathon, now in its 25th year, takes place along the city's famous seafront.
It is smaller than some other half marathons, with 12,500 registrations for this year's race.
However, being one of the first city half marathons on the race calendar makes it popular, with entries for 2015 selling out in record time.
"Brighton is very much on the map for running destinations in Europe," said Simon Dowe, chief executive of Brighton-based HIV charity The Sussex Beacon, which organises the event.
"The city has a fantastic running community with a large number of running groups and clubs plus some major races."
He said the race injects money into the city as a whole, but it also gives a platform for many local and national charities to raise funds for good causes.
"As the charity which organises the Vitality Brighton Half Marathon, we see the tangible benefits of running in our local community," he said.
He supports Birmingham's attempt to become known for running.
"If Birmingham's bid proves successful, I'd hope to see the benefits filtering through to other cities in the UK such as Brighton and for it to inspire even more people to take up running to get fit and stay healthy," he said.