New Cross Hospital nurse in breast cancer op 'mix-up'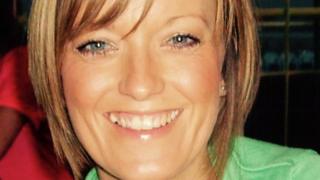 A breast cancer nurse underwent unnecessary surgery at the hospital where she worked after being wrongly diagnosed with the disease.
Elizabeth Dawes, 39, of Stafford, was told of the "mix-up" four days after breast cancer surgery at New Cross Hospital, Wolverhampton, in July 2013.
She said she suffered extensive scarring and found it "horrendous" that the procedure had been unnecessary.
Royal Wolverhampton NHS Trust apologised for the "terrible error".
'Making plans'
"The medical director and nurse director met with Ms Dawes to offer her an unreserved apology for this terrible error and inform her of the trust's investigation into the incident," a trust statement said.
"The findings of the investigation were shared with Ms Dawes and a further apology offered at the time. The incident is now part of an ongoing legal claim with which the trust is co-operating fully."
Ms Dawes had been told the results of a biopsy had revealed grade three invasive cancer that needed immediate treatment with surgery and chemotherapy.
"To be told you are facing aggressive cancer in your 30s is devastating and of course, I feared the worst and began making plans for my child and getting finances in order," she said.
"I was willing to undergo whatever treatment it took to fight the cancer so when I was told I needed surgery. I didn't think twice."
Ms Dawes said she was advised to have a bilateral breast lift because of the surgery.
"I was very sore after the operation and shocked by the extensive scaring, so to be recalled four days later to be told none of it was necessary was truly horrendous," she said.
Ms Dawes has changed career since the ordeal which she said had a "huge impact" on her life and left her in pain.
Her solicitors, Irwin Mitchell, said Ms Dawes was told three patients' notes were mixed up so she feared other women were also at risk.
However, the trust said "no other patient received inappropriate treatment as a result of this incident".
The firm added the trust admitted liability in September and a settlement was being discussed.