Mobile phone warehouse in Wednesbury 'may close'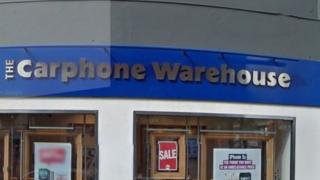 A mobile phone warehouse that employs 500 staff in Wednesbury is set to close under plans being considered by bosses.
The move, affecting the former Carphone Warehouse site in Bilston Road, follows the firm's merger with Dixons.
Managers at the new Dixons Carphone said staff would be offered jobs at its centre in Newark, Nottinghamshire.
But Vicky Cornelius from the Communication Workers Union said a 90-mile relocation was not an option for most Wednesbury employees.
"[Dixons Carphone] are not offering help with relocation, and the salaries are so low it's probably not worth making the move.
"Our members are very worried. They've known for a while something was going on, and they've been waiting for the sword of Damocles to fall.
"They feel they've really been let down."
A spokesperson for Dixons Carphone said the company would be "working very closely" with employees, and recognises "the wealth of knowledge and experience in our colleagues at Wednesbury".
The firm said it had been reviewing its two services divisions as part of the ongoing integration process and wanted "to find the best way to bring them together and create a single operating model that is efficient, sustainable and delivers for our customers".
The site in Newark was previously part of Dixons.
Dixons Retail, the owner of Currys and PC World, and mobile phone retailer Carphone Warehouse merged in a deal worth £3.8bn.