'Troubled' families money not spent in West Midlands region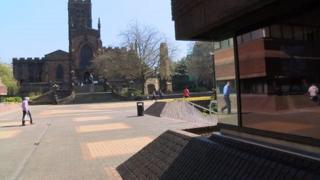 About a quarter of money available to turn around "troubled" families still has not been spent by councils in the West Midlands, the BBC has learned.
The government's Troubled Families Programme targets families whose lives have been affected by problems such as crime, alcoholism and truancy.
Councils in the region were allocated £47.5m in government cash for such families over the past three years.
But they have yet to spend about £11m, a Freedom of Information request shows.
'Significant cuts'
The councils said they had "turned around" 12,442 families so far.
The Troubled Families Programme pays councils to work directly with a family to deal with their varied problems, including worklessness and truancy, rather than lots of different agencies working with each aspect of the families' troubles.
It was set up by David Cameron after the 2011 riots in England with the aim of helping 120,000 troubled families by 2015.
Local authorities are paid up to £4,000 on a payment-by-results basis for turning around the hardest-to-help families.
Wolverhampton was given three years to target 800 "complex" families in the first phase of the programme. It got £2.8m of funding, but £1m has not been spent.
Emma Bennett, from the city council, said: "The one million pound still sits with us and we have plans going forward moving into phase two of this eight-year programme now in order to plough it back into services. It will all be reused back into the system."
In March the government pledged an extra £200m to extend the programme.
Critics have said there could be a more effective and cheaper approach.