Norfolk/Suffolk PCCs disagree over talk of merger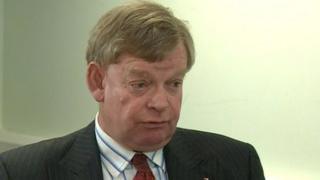 The police and crime commissioners for Norfolk and Suffolk have disagreed over claims a new pay deal could be a step towards a merger of two forces.
The pay changes will affect 800 roles, staffed by 2,300 people, and result in pay cuts for 17% and rises for 34%.
Norfolk's PCC Stephen Bett said he hoped it would be a "step down the road to merger", but Suffolk PCC Tim Passmore rejected such an idea.
The union Unison said it would ask the workforce for its views on the plan.
Mr Bett said: "Whether it is a step down the road to merger or wider federation then personally I hope so.
"I certainly see further collaboration with Suffolk.
"I believe that collaboration has to be the way forward, whether that is with other police forces or other blue light or public sector partners."
Mr Passmore, who has previously resisted attempts to merge the forces' control rooms, said: "Let me make this absolutely crystal clear there are no plans for a merger, ending up with a Norfolk and Suffolk constabulary. It is not on the agenda."
He said he welcome collaboration with nearby forces or national forces in areas such as child exploitation, but we are "not seceding complete sovereignty. Bigger is not always better".
Mr Passmore welcomed the pay review which equalised pay to workers doing the same job, but was "surprised" it had taken five years and called for a full report from the chief constable as to why it had taken so long.
In a joint statement, Suffolk temporary Chief Constable Gareth Wilson and Deputy Chief Constable for Norfolk Charlie Hall said links between the forces had highlighted "inequalities" in pay, terms and conditions for the same job.
"Clearly, this needed to be addressed to ensure we complied with employment legislation that promotes equal pay for equal work," they said.
"This process is not about saving money. In fact, the introduction of the scheme will have a moderate cost."