Abdul Mosa admits A20 Saltwood death crash charges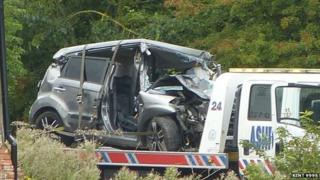 A man has pleaded guilty to five dangerous driving offences after a boy died and four people were seriously injured in a crash in Kent.
Abdul Mosa, of Woodbridge Lawn, Leeds, West Yorkshire was driving a Kia Soul when it collided with a lorry on the A20 at Saltwood, near Hythe, in August.
Canterbury Crown Court heard him admit causing death by dangerous driving.
The 42-year-old also pleaded guilty to four counts of causing serious injury by dangerous driving.
A boy aged seven who was in the car was pronounced dead at the scene.
Three people in the car and the lorry driver were seriously injured.
Sentencing was adjourned to 3 July.