First Tour de Yorkshire cycle race set to start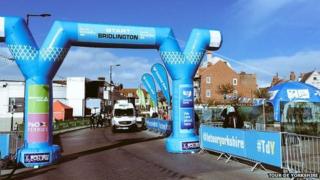 Sir Bradley Wiggins will be among the 141 cyclists setting off on the first Tour de Yorkshire later.
More than one million spectators are expected to turn out for the three-day race, inspired by the Tour de France, which begins in Bridlington at 11:45 BST.
The event was developed in the county as a lasting legacy of the Grand Depart held in Yorkshire last July.
Riders will complete more than 500km (310 miles) over the three days.
Organisers focused on the county's eastern side and North Sea coast after these areas were left out of the Grand Depart route.
Bridlington's mayor, Shelagh Finlay, said she hoped the event would put the resort on the international map.
"It is an opportunity for us to showcase our fabulous harbour, the coastline and all the things people want when they come on holiday."
Gary Verity, chief executive of Welcome to Yorkshire, said: "These three days are set to go down in history.
"The eyes of the world will once more be on Yorkshire and we want everyone to have a fabulous, memorable time."
Olympic gold medallist, Ed Clancy, who will also be riding in the race, said it was the "talk" of the county.
"I think even if we only get a tiny percentage of those who turned out last year [for the Tour de France] it will still be a huge event."
The 174km opening stage of the race will have a ceremonial start on South Marine Drive outside the Bridlington Spa before it officially begins at 12:00 at Sewerby. It will finish in Scarborough.
Saturday's second stage, also 174km, is from Selby to York.
The final stage on Sunday will take the riders on a 167km route from Wakefield to Leeds.