Corfu gas deaths: Coroner tells jurors to reach unlawful killing conclusion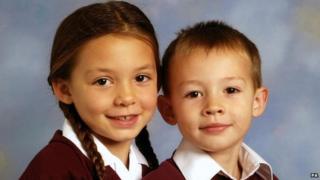 The coroner at an inquest into the deaths of two children from carbon monoxide poisoning on holiday in Corfu has ordered jurors to return a verdict of "unlawful killing".
Bobby and Christi Shepherd, aged six and seven, died at the Louis Corcyra Beach Hotel in October 2006.
They were overcome by fumes from a faulty hot water boiler housed in an outbuilding, jurors heard.
Coroner David Hinchliff said "unlawful killing" could be the only conclusion.
Complex inquest
Jurors retired with instructions on how to fill out a form detailing how and why the children, from Horbury, near Wakefield, died.
Before they left the court, Mr Hinchliff said: "This has been a complex, difficult and sometimes harrowing exercise.
"But you have to make your determination based on the evidence that you've heard and not on any feelings of sympathy and empathy with the family."
The children were found dead in a bungalow on hotel grounds by a chambermaid.
The jury were sent home at about 16:00 BST and will return on Wednesday to continue considering their verdict.
During the inquest, the jury heard how Christi and Bobby had felt ill the day before and, at bedtime, their father and stepmother had also felt unwell.
The adults went into the children's bedroom to help them but do not remember anything else until they awoke in hospital.
Maintenance errors meant the rusting boiler had a number of faults.
These included a failure to fit a flue, a water leak which meant the boiler was over-working, a crucial safety device which had been short-circuited and holes left in the walls between the outbuilding and the bedroom when air conditioning pipes had been installed.
The coroner called this final error a "bodged and botched" job.