Magna Carta: Charter bearers chosen for Thames pageant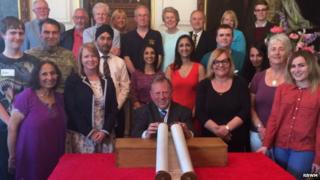 Twenty-three charter bearers have been chosen to accompany a replica Magna Carta during the celebrations to mark its 800th anniversary.
They were nominated to take part in a River Thames pageant in June to mark the the sealing of the Magna Carta.
Charity volunteers and community workers were among those chosen as recognition for their public service.
Magna Carta, authorised on 15 June 1215, is considered one of the first steps towards parliamentary democracy.
It included the principle that no-one was above the law, including the King.
The chosen charter bearers attended a reception at Windsor Guildhall with the Deputy Lord Lieutenant of Berkshire.
They were given a first glimpse of the replica charter they will accompany on a two-day voyage from Hurley in Berkshire onboard the Royal Shallop Jubilant in the Magna Carta 800th The River Relay.
The Queen's Diamond Jubilee barge, Gloriana, will be the flagship of the flotilla of about 200 boats.
Actors will tell the story of the charter while it is transported downstream to Runnymede.
The bearers were nominated by local community organisations including faith groups, charities, schools and societies.