Dorset Jurassic coast cliff crack causes concern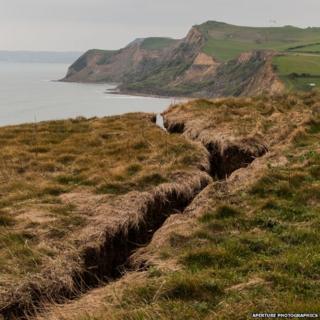 A large chunk of cracked cliff on Dorset's Jurassic Coast has the potential to fall on to the beach below, experts have warned.
Photographer Doug Chalk came across the crack, 60cm (2ft) wide and 45m (50yds) long, near West Bay on Friday.
Mr Chalk said it looked "pretty awful".
Jurassic Coast earth science manager Richard Edmonds, who has examined the crack, said it was unlikely to be a fresh break, but could be related to heavy winter rainfall in 2012-13.
"It's clearly going to fall off - I just can't tell you when," he said.
"It's quite concerning but it's part of the nature of this coastline."
Dorset County Council said the crack in the edge of Watton Cliff was above the western part of Eype Beach and there was no threat to West Bay's esplanade.
It said the coast path at the top of the cliff was far enough away not to be affected and it was installing temporary warning signs
"Advice to coast users is, as always, for people to stay away from the edges and base of cliffs, to observe warning signs, whether temporary or permanent, to stay on official paths, and to be aware of their surroundings," a spokeswoman said.
Mr Chalk said he posted the picture, taken with a telephoto lens, on social media to warn visitors ahead of the bank holiday weekend and had been "astounded" by how widely it had been shared.
"It's going to be a major fall when it goes," he said.
Mr Edmonds said the crack was at the top of the vertical cliff, but there was nothing apparent to anyone looking up from the beach below.
A spokeswoman for the Maritime and Coastguard Agency said the coastguard was aware of the crack and would be monitoring the area.