Drugs charity Dare probes singer Hatty Keane's claim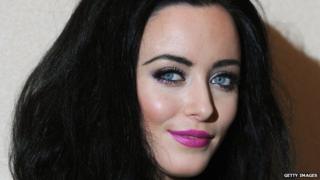 A drug and alcohol awareness organisation has launched an investigation after discovering an aspiring pop singer was visiting schools claiming to represent it.
Hatty Keane performed to students in Kent and Sussex under the Drug Abuse Resistance Education (Dare) name.
The not-for-profit company informs children about drink and drugs.
Ms Keane's management said it no longer made reference to Dare and apologised for any confusion.
Peter Moyes, chief executive of Dare, said he had not heard of Ms Keane.
"Clearly it is very concerning and we need to get to the bottom of the facts and assess just how damaging it could be," he said.
Ms Keane's management team, BGM Entertainment, said she was engaged by a third party, Primeagency, to represent Dare in 2013.
However, Dare said it severed contact with Primeagency in 2014.
BGM Entertainment said it was never informed the relationship had been terminated.
In a statement, it said: "We apologise for any possible confusion that may have been caused in relation to any possible reference to the charity, which, if mentioned, was done so in good faith, for the benefit of the charity.
"We have spent our own money seeking to publicise the charity and we have spent thousands of pounds in doing so. For the avoidance of doubt we have made no profit at all."
Information sent to schools states a performance lasts an hour and includes three songs, plus a 20-minute chat with the children.
Among the schools Ms Keane performed at was Canterbury Academy, in Kent.
Its head Jon Watson, said: "The students enjoyed the assembly, they enjoyed her company and the music, but it was just some of the info was rather anecdotal and rather general in presentation."