Southern lets rail commuters down, says Surrey MP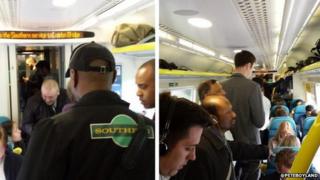 A rail firm that fined commuters for using first class because the train was so crowded should itself face greater financial penalties, a Surrey MP says.
Passengers on the Southern train, from Oxted in Surrey to London Bridge, were told they had "the wrong tickets".
Southern pointed out that only those people travelling on standard class tickets who were in seats faced the minimum £20 fine.
Tory MP Sam Gyimah said Southern should be fined for "letting commuters down".
"People have paid for their tickets and they should not be paying the price for a lack of capacity too," he said.
Train rescheduled
Kevin Russell, who was on last week's crowded 07:36 service to London, said he was "literally edged into the first class area".
Mr Gyimah, who represents East Surrey, said: "If Network Rail, who operate the track, let down Southern, they get fined and they have to pay very quickly.
"However, if a commuter who's paid for their season ticket is let down it's very difficult for them to get compensation in the first place, and if they do get it it's not enough.
"I think we've got to look at increasing the cost to Southern of letting commuters down."
In a statement, Southern said: "Those that were issued with a penalty fare were sitting in first class accommodation while holding a standard class ticket.
"If passengers have no option other than to stand in first class they would not be penalty fared."
A penalty fare is for £20 or twice the price of the single journey, whichever is the greater, the company said.
On Wednesday, drivers voted to take strike action in a row over pay with Southern, which runs services between London, Sussex, Surrey, Hampshire and Kent.
Its "never on time" 07:29 Brighton to London Victoria service was criticised by the Prime Minister in January.
The train failed to arrive on time, at 08:35 in London, on any of its 240 attempts during 2014.
As a result from Monday, Southern rescheduled the train to arrive three minutes later and no longer stop at Wivelsfield station.