Rye holds first ukulele festival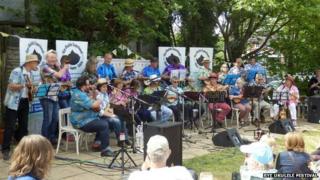 A dozen ukulele bands from across Kent and East Sussex gathered in Rye for the town's first ukulele festival this weekend.
Organiser Lorna Hall said the ukulele was the "instrument of the moment" and the playlist included ranged from blues and jazz to the Beatles and Elvis.
She said hundreds of players turned out for the event, which included a "big busk" and a 15-minute slot per band.
People who had never played were also being encouraged to have a go.
Ms Hall said people liked the four-stringed instrument because it was easy to learn and something people could sing along with - not like a clarinet.
"They've been bringing it into schools a lot recently. It's also particularly good for children with little fingers as well," she added.