New bishop installed in Arundel to replace 'unfaithful' priest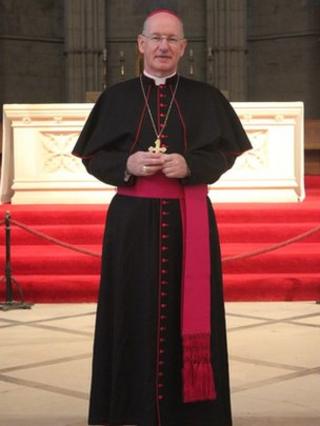 A new bishop is being installed for the Roman Catholic Diocese of Arundel and Brighton eight months after the previous incumbent resigned.
The Rt Rev Richard Moth is being installed as the 5th Bishop of Arundel and Brighton at Arundel Cathedral.
His predecessor the Rt Rev Kieran Conry resigned in September, saying he had been "unfaithful" to his promises as a Catholic priest.
Bishop Moth said his installation was a great day.
The ceremony is being conducted by the Most Rev Peter Smith, Archbishop of Southwark, during a special mass in front of a congregation of more than 600 people.
'Real privilege'
Bishop Moth, previously Bishop of the Forces, was born in Chingola, Zambia, in 1958 and brought up in Kent.
The former pupil of the Judd School in Tonbridge was ordained as a priest in 1982.
His installation is taking place on the 50th anniversary of the establishment of the diocese, which covers Sussex and Surrey.
"It is a real privilege and, I believe, a grace that this should be the day of my installation as your 5th Bishop," he said.
In September Bishop Conry apologised for his actions but said they were not illegal and did not involve minors.
The diocese is carrying out an inquiry into his resignation.