MoD invests £80m in helicopter training at RAF Odiham and RNAS Yeovilton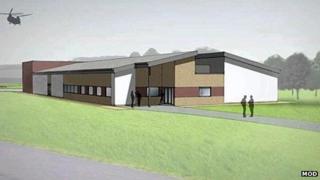 Two military helicopter bases are getting new flight simulator training centres in an £80m investment from the Ministry of Defence (MoD).
RAF Odiham in Hampshire, home of the Chinook fleet, will get a purpose-built facility worth £51m.
A £29m contract has been awarded to train crew of the Royal Navy's Merlin Mk 4/4a helicopters at RNAS Yeovilton in Somerset.
The aim is to complete work at both centres in two years.
Defence Procurement Minister Philip Dunne said: "We are providing our armed forces with one of the most capable and technologically advanced helicopter fleets in the world, and to complement this, it is essential that we also provide them with the very best and latest training."
The Chinook Mk 6 virtual reality training at Odiham will include two flight deck device simulators, a rear crew training device and a suite of computer-based training facilities.
RNAS Yeovilton will get two flight training devices, a flight navigation procedures trainer and a rear crew trainer - to be installed in existing buildings.
MoD air vice-marshal Julian Young said: "Although it can never replace live training fully, being able to create a wide variety of training scenarios and operating settings can provide a more challenging, safer and controllable environment to help our forces practise in a way that is essential to effective mission preparation."