Avon and Gloucestershire wildlife trusts to 'empower' young adults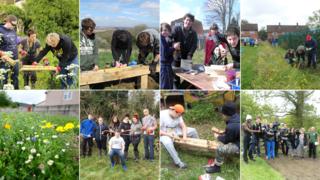 Two wildlife trusts have been given £1m to help young adults improve the social housing areas where they live.
Avon and Gloucestershire wildlife trusts want to train 1,100 people, aged 18 to 24, and work with 7,000 in a joint project over the next five years.
The Natural Estates project will involve managing green areas and learning new skills.
Communities across Bristol, Somerset and Gloucestershire will be the focus of the work, funded by a lottery grant.
Janice Gardiner, of Avon Wildlife Trust, said: "The opportunity for training and skills development to make creative changes on their doorstep will have long term positive impacts on the health and wellbeing of all the residents, and on wildlife.
"We want to inspire young people to make a difference on their own patch."
The trusts will make training, volunteering and entrepreneurial projects central to the project.
Their aim is to "empower young people living in social housing to gain new skills relevant to finding jobs".
The trusts said they would be working with six social housing providers, local authorities, youth support organisations, schools and colleges.
Jo Worthy-Jones, wildlife gardening expert at Gloucestershire Wildlife Trust, said: "Natural Estates is all about supporting youth from less affluent areas of the region to become environmental leaders of the future."