Argentina cocaine death Briton 'frightened' before death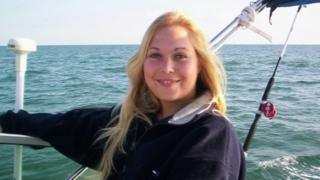 A British woman was "frightened" days before she was found dead in Argentina in 2007, amid fears of possible foul play involving drugs, an inquest heard.
The body of Laura Hill, 25, of Eastbourne, Sussex, was discovered near a lift in flats in Buenos Aires.
An inquest was told she had a high level of cocaine in her blood and would have suffered a "rapid death".
It also heard she had been worried in the run up to her death and had been offered money to smuggle drugs.
Pathologist Dr Peter Jerreat, told the two-day inquest at Eastbourne Law Courts, the dental nurse died from acute cocaine intoxication.
'Overdose realistic possibility'
Dr Jerreat, who carried out a second post-mortem examination on her in January 2008, said there were no puncture wounds or deep bruising on her body but thin needles might not leave a visible mark.
He also said there did not appear to be any signs or restraint, natural disease or traumatic illness.
There were two options according to East Sussex coroner Alan Craze; that there was no foul play or Ms Hill had been injected with cocaine against her will.
Ms Hill's relations have fought for years to get answers about her death and previously expressed fears that she may have been killed by a criminal gang.
The inquest was told her family received an anonymous phone call following her death from someone who said Ms Hill had been "a bit frightened".
Ian Hall, a former boyfriend of the dental nurse, also said she disclosed to him that she had been offered cash to smuggle drugs to the UK.
But Ms Hill's friend Gemma Liddiard said she would never have been involved in international trafficking.
There was no evidence she had packages of cocaine inside her at the time of her death, according to toxicologist John Slaughter, and it was a "realistic possibility" she had taken cocaine with a high level of purity.
Ms Hill took the drug recreationally, according to her sister Kerry, but was not an addict or a thief.
The inquest continues.