Wigan sex chat councillor Robert Bleakley steps down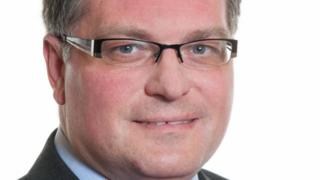 A Wigan councillor who refused to quit after spending thousands of pounds calling adult chat lines on his work mobile has stepped down.
Robert Bleakley ran up a £2,500 phone bill in 2014 and was also accused of sexism towards women, for which he apologised.
The Independent councillor denied the accusation and refused to stand down at the time, vowing to serve until 2016.
He has not put himself forward for re-election in May, said Wigan Council.
Mr Bleakley, who has been a councillor for more than 10 years, told the BBC he decided not to stand again soon after his mother's death in 2013.
He also cited health concerns which he said were due to media pressure and the actions of the council.
'Bogus allegations'
The council's standards committee held a conduct hearing and was shown text messages in which Mr Blaekley swore and said women were "idiots".
It added: "No wonder women are just cooking and washing material."
Mr Bleakley refuted the "bogus allegations" of sexism and said they were comments made "in jest to a very good friend of mine".
The panel found he had breached members' code of conduct for using his phone for personal use but did not suspend him as a councillor.
'Regrettable'
His phone was removed with other IT equipment and his internet access was stopped. He repaid the phone bill.
The councillor described the incident as "regrettable" but said he would serve until 2016.
Last year council leader Lord Peter Smith described Mr Bleakley as the country's "most expensive councillor at £2,000 an hour".
The comment was made in relation to the number of meetings the councillor had attended.