Woman, 19, raped in Newcastle alleyway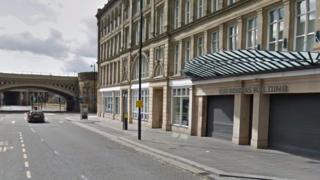 A woman was raped in an alleyway in Newcastle city centre, police have said.
The 19-year-old victim was attacked in St Nicholas Street in an area between Subway sandwich shop and High Level Bridge between 00:00 and 03:00 BST.
The attacker is described as white, about 5ft 9ins to 6ft (1.79-1.82m) and of skinny build.
He had short brown hair and stubble and was wearing blue skinny jeans and a navy T-shirt.
He spoke English but not with a local accent, police said.