Majorca hotel bath death holidaymaker identified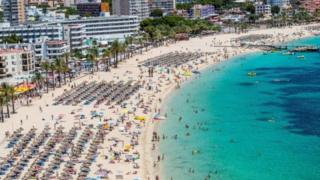 A British holidaymaker who drowned in a hotel bath in Majorca has been identified by police as a 23-year-old woman from Lancashire.
Samantha Johnson, of Blackpool, was found dead after staff noticed water seeping under her hotel room door.
They found her body at the TRH Torrenova in Magaluf on Monday night.
Spanish police said there were no suspicious circumstances, and they were treating Ms Johnson's death as "a tragic accident".
A spokesman for the Guardia Civil in Majorca said: "A local court will now open a routine probe.
"But we will be informing the investigating judge there is no evidence a crime has taken place, and everything is pointing towards this woman's death being accidental."
He added: "She may have fallen asleep while taking a bath."
Hotel staff and paramedics had tried to resuscitate Ms Johnson but she failed to respond.
A post-mortem indicated the cause of her death was drowning.
The Foreign Office said they were providing support to her family,