Child gender identity referrals on the rise in Yorkshire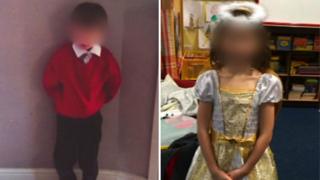 The number of children and young people in Yorkshire and the Humber who are being referred to a gender identity clinic has risen from eight to 133.
The Gender Identity Development Service (GIDS) said the rise in referrals for under-18s was partly due to greater awareness and acceptance.
It comes after figures showed referrals to the service rose nationally.
A seven-year-old, who recently transitioned from male to female, said she was now happy living as a girl.
Dr Sally Phillott, consultant clinical psychologist for the Gender Identity Clinic in Leeds, said dozens of those seen have been aged under 11.
"There's been a lot more awareness in the media," she said.
"I think with social media there's more support groups for local people and many schools are now asking for training on how to work with such children."
GIDS referrals for under-18s in Yorkshire and the Humber
2009-10
8
2010-11
6
2011-12
10
2012-13
26
2013-14
37
2014-15
42
2015-16
133
Seven-year-old Olivia - not her real name - started dressing up as a female when she was 18 months old. Her name was changed by deed poll at the age of six.
Her mother said the family, from South Yorkshire, initially thought it was "just a phase" and took the dressing up clothes and toys away as she got older.
However, they were left with "one very unhappy little boy" and with support from GIDS eventually allowed their child to transition.
"To be honest me and my husband didn't know if we were making the right decision or not because how can you change a child's gender," she said.
"You decide what they want for tea and where they go to school but you don't decide what gender they are, they just are."
Olivia's mother has praised staff and pupils at the school and described them as "amazing".
But the Mermaids charity, which supports teenagers and children with gender identity issues, said there are currently no government guidelines in place to help schools deal with transgender children.
A spokesman said: "Teachers receive no training whatsoever and if they want training they have to ask agencies such as ourselves.
"We think training should be compulsory for all teachers and schools."
GIDS is the NHS's dedicated gender identity development service for children and has clinics in Leeds and London. No physical changes can be made until the young person reaches puberty, it said.