Polecats numbers grow but many don't recognise them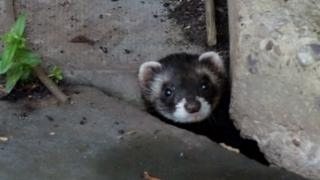 The polecat isn't just surviving it's doing really well with numbers increasing according to surveys by the Herefordshire based Vincent Wildlife Trust. But would you recognise one if you saw one? Here's a simple spotters' guide.
The trust is that most of us are going to catch a glimpse of a polecat either dead beside the road or perhaps as a flash of something furry as it dashes out of the way of your car.
Furry sausage
They are larger than a stoat or a weasel but a good rule of thumb is if your quick glimpse (and it will be quick!) is of something like a furry sausage then it was more likely a stoat or a weasel.
If it was a bit larger, perhaps you thought it was a strange looking cat, then it's likely to be a polecat. There's a useful size guide here.
Despite their numbers increasing it seems one reason we don't really recognise them is they don't feature in popular culture.
There are kid's stories featuring badgers, weasels and stoats and plenty with squirrels and deer. But polecats are don't seem to feature.
Not pine martens
And some people can confuse polecats with pine martens. Pine martens are larger and are returning to parts of the Midlands but they remain much, much rarer.
Interestingly although polecats and pine martens do look quite alike (at least to the untrained eye) their recent history shows us how the same changes in the landscape can have very different impacts on two species.
Polecats clung on in England but likely went extinct in Scotland. Now they are returning to England using the Midlands as an important base from which to expand.
With pine martens it's the exact opposite. Boom time in Scotland but extinct in England until very, very recently when a few have been sighted in Shropshire.
So keep your eyes peeled and who knows where you might see a polecat. I even met a man who had one throw itself through the cat flap and hide under his bookcase.
For most of us though it will be a quick glimpse as we drive along. So remember, ignore the furry sausage... look for something a bit bigger.