Man held over Facebook threats to MEP Sajjad Karim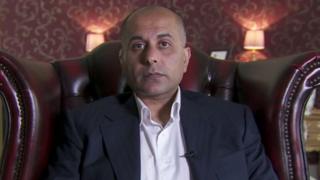 A man has been arrested on suspicion of making social media threats to North West MEP Sajjad Karim.
Mr Karim gave a statement to police on Friday following what he claimed were "direct threats" on Facebook.
A 55-year-old man was later arrested in Harrogate, North Yorkshire, and released on bail.
Conservative MEP Mr Karim has campaigned for the UK to remain in the European Union ahead of the forthcoming referendum.
Speaking to the BBC following the death of MP Jo Cox, the 45-year-old said there had been a building up of tensions as the campaign intensified.
"There have been very direct threats which are now currently with the police," the Blackburn-born MEP said.
"They are being investigated and I anticipate there are individuals who will be spoken to as a result of those threats."