Bedfordshire Police admits ironworks explosives mix-up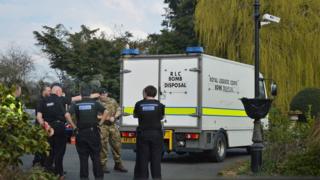 A police force has admitted responsibility for sending dummy explosives to a tourist attraction by mistake which resulted in a controlled explosion being carried out.
The British Ironworks Centre in Shropshire was sealed off when the substance was found in a pile of metal.
Bedfordshire Police says the package was accidentally been picked up from a property store along with some knives.
Weapons have been collected nationwide to create a "knife angel" sculpture.
The attraction in Oswestry, Shropshire, was evacuated on 15 April after Gelamex was discovered and a controlled explosion was carried out by the Ministry of Defence.
A spokeswoman from Bedfordshire Police said: "We have investigated the circumstances surrounding an incident where it was reported that explosives were collected as part of a knife donation to a charity.
"We believe that these were dummy explosives that had been used in training exercises, and they had accidentally been picked up from a property store along with knives collected following a recent knife surrender.
"We have written to the company and apologised for any distress caused. We have also reviewed our processes in light of this incident to ensure that we have learnt from it and made the necessary changes."
The centre, which is also home to the Shropshire Sculpture Park, had asked police forces across the UK to send weapons to them to form part of the sculpture, which will be 20ft (6m) high when complete.
Tens of thousands of knives have been donated already, with 100,000 needed to finish it.
Director of operations at the centre, Ben Knowles, confirmed the letter had been received from the force.
"It was just one of those things," he said. "The police were pleased with the way we dealt with it.
"Our focus is the knife campaign."