Heavy rain in south east England: Your pictures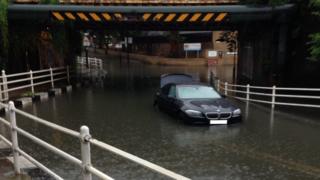 Torrential rain and thunderstorms have caused disruptions and flooding across southern England.
Heavy rain has affected some referendum voters as people waded through flood water to reach polling stations. More rain is expected to hit parts of England later.
Many of you have shared your pictures and videos with us.
EU referendum and flooding are making headlines. John Tindall shared this picture of his local polling station in Chessington, south west London.
Mr Tindall said he didn't get to vote as he was in a rush and the water was around six inches deep at the polling station.
Emergency services are dealing with incidents of flooding. Samantha Hazlehurst sent us this picture from Wimbledon in south east London.
Commuters faced major delays and cancellations to services on Thursday morning. Olly Dolphin took this picture outside Surbiton train station in south west London.
Roads are affected by flash flooding. Charlie Livings sent us this picture from Romford.
Many people captured photos and video of lightning strikes last night. Tony Home managed to get a good photo of a lightning strike in Bedfordshire.
Flora Paterson took this picture from her vantage point in Tottenham, north London.
For some motorists, it's the end of the road. Alex King took this picture of an abandoned car in Southampton as he made his way to work.
Some parts of London are flooded. BBC Weather Watcher, George1098, took this picture in Hornchurch.
Some people are lucky to have grandstand views of this morning's downpours. vSinto took this picture in Southwark, south London.
Mind the gap: Transport disruption is set to continue as further heavy rain is expected later. AndiGM took this picture at Clapham Junction station.
Produced by Paul Harrison