Yarl's Wood Immigration Removal Centre play comes to Sheffield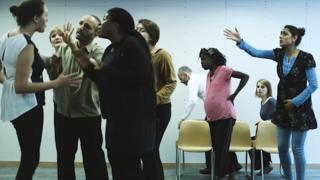 A play about people locked up in Britain's immigration detention centres is performed in Sheffield.
'The Scar Test' explores life inside detention facilities where foreign nationals are supposed to be held for a short time if the Home Office wants to deport them.
In the UK there is no limit on the time someone can be held and many often spend months, sometimes years, inside.
The play was performed as part of the city's Migration Matters Festival.
The UK's 13 immigration removal centres can hold about 3,000 people at any one time.
Set in the women-only Yarl's Wood Immigration Removal Centre in Bedfordshire, The Scar Test hopes to highlight "the mistreatment of women" by telling the stories of detainees, volunteers and officers.
The script is based on verbatim interviews with people who have experienced the immigration detention system.
Nadia Nadif, co-producer of the play, hopes more public attention will be given to the plight of detainees.
She said: "I speak to people who are very socially and politically aware, but who don't know that immigration detention centres exist.
"We're planning on bringing the secrets of detention centres out from behind closed doors."
Nadif sought help from people who visit detainees inside detention, including Heather Jones who told the BBC she thought that detention was hidden from public view.
"It would not be acceptable for me or my children to be locked up like that. If a Briton was locked up for months or years in a foreign country there would be an outcry."
The Migration Matters Festival is designed to celebrate the sanctuary provided by the city to refugees and is one of a number of events taking place across the country for Refugee Week 2016.
A number of investigations have tried to expose life inside Britain's immigration detention centres.
In March 2015, an undercover film shot inside Yarl's Wood by Channel 4 revealed numerous instances when staff had mistreated detainees.
An investigation by the BBC in April 2016 found many people have been illegally detained. As a result, the government has paid out compensation totalling £18 million in the past four years.
Last year the home secretary announced a review of the immigration detention system. The review released its recommendations in January 2016 and Nadif is keen for the government to implement fundamental changes.
She said: "We hope the review will bring about reform. Immigration detention is an issue that needs to be on more people's radar."