Ex-UKIP MEP Nikki Sinclaire 'claimed for trips she did not make'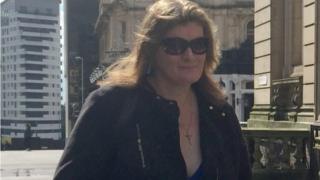 An MEP claimed "significantly higher sums" for travel and for trips "not undertaken at all", a court has heard.
Nikki Sinclaire, 47, denies laundering money and committing misconduct in a public office, while representing the West Midlands for UKIP.
One charge alleges that she claimed for a Solihull to Stoke-on-Trent journey when records appear to show she was in Cyprus, Birmingham Crown Court heard.
Prosecutor Antoine Muller said he will focus on 10 claims from 2009 and 2010.
Opening for the Crown, Mr Muller said the amounts involved meant "we're not going to be talking about tens of thousands [of euros], or hundreds of thousands - it's not that sort of cash."
'Book of rules'
Ms Sinclaire, from Solihull, wrongly claimed thousands of euros in travel expenses for journeys to the European Parliament by car when she had actually flown more cheaply, the court heard.
She is accused of misconduct in a public office between 1 October 2009 and 31 July 2010 while a member of the European Parliament, by making or causing to be made false or dishonest travel expense claims.
She is also accused of fraudulently transferring criminal property into her bank account between 14 October 2009 and 31 December 2010.
Mr Muller showed the jury a "book of rules" about what members of the Brussels parliament could claim.
The barrister said a West Midlands Police investigation analysed different expense claims by Ms Sinclaire and the jury would be shown payments slips she signed.
Judge Stephen Eyre QC told the jury: "You are responsible for deciding the facts of this case, with the crucial decision as to whether the defendant is guilty or not guilty of the charges.
"This is not a trial about politics, but about particular events in a particular time and about the intention of which certain things were done.
"Whether you agree or disagree with the defendant's politics is irrelevant to this trial."
Ms Sinclaire left UKIP in 2010 and served as an independent MEP until losing her seat in the 2014 elections.