Small rise in race hate offences in Surrey and Sussex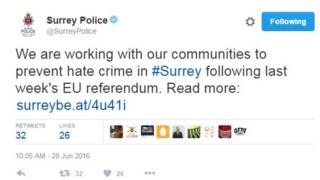 Police in Sussex and Surrey have recorded increases in race-hate crime since the EU referendum.
An eleven-year-old girl suffered racial abuse in Southwater Country Park near Horsham, West Sussex.
It is understood she was with friends on Saturday when she was verbally abused by a group of teenage boys.
Sussex Police confirmed a "small increase in reported hate crime" in the last few days.
It said none of the boys had been arrested, but they would be "spoken to".
Surrey said 27 offences were reported across the county in the last week of June, up from 22 at the same time last year.
It described the number of hate crimes as low and said they were "not necessarily related" to the Brexit vote.
The force said: "Members of minority groups may at this time feel unsafe, particularly those who have made the UK their home. Hate crime hurts us all - it strikes at the heart of our communities and Surrey Police will not tolerate this type of offending in any form."
'People feeling nervous'
Sussex said it was "hard to say" if the extra race-hate crimes were "all directly connected to the referendum" but "we appreciate some people are feeling nervous".
It said it was aware other people had also been "subject to abuse" but had not told police.
A spokeswoman said they "would always encourage people to report such incidents" to help police "understand the full picture".