England Coastal Path: Kent and Sussex section opens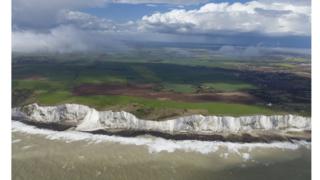 The latest part of a 2,700-mile chain of footpaths around the entire English coast has opened in south-east England.
The 66-mile (106km) stretch between Camber, in East Sussex, and Ramsgate, Kent, provides access to many of the region's coastal landmarks.
The £160,000 route, which took five years to complete, is the first section of the England Coastal Path to open in the South East.
Natural England hopes to complete the project by 2020.
As well as providing unfettered access to England's entire coastline, the project is expected to boost local economies and enable wildlife to recover and flourish.
Natural England says the coast path in south-west England is worth £400m a year to the regional economy.
A spokesman said the section that opened on Tuesday, providing views of Dover's White Cliffs, involved the co-operation of more than 400 landowners and 150 businesses.
It involved a diversion inland of a 30-mile (50km) stretch to avoid the military firing ranges at Lydd and Hythe, in Kent.
And in Sandwich, the work has provided public access around the peninsula for the first time.
Natural England says research suggests three times as much is spent by visitors to coastal sites as in the countryside.
Environment minister Therese Coffey said: "Opening this path will allow more people than ever before to experience this national treasure first-hand."
The first section of the nationwide project, which on completion will be the longest continuous coastal walking route in the world, was opened in Dorset in 2012.