Guide dog refused entry to Santa Pod race track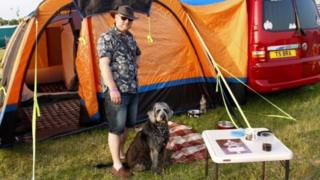 An equality officer who is registered blind has said he was refused entry to Santa Pod raceway because he had a guide dog.
David Smith, 49, of Northampton, said managers refused to allow him to enter a VW event with his dog Darcy at the Bedfordshire venue on Sunday.
Santa Pod said it was concerned about the safety of the animal.
But Robert Jinks, engagement officer for Guide Dogs, said refusing a guide dog's entry is illegal.
Mr Smith, who is an equality and diversity officer for union Unison, went with his family to Santa Pod VW Festival in the morning.
The event included drag racing, stunt displays, a funfair and stalls.
Mr Smith said he was initially told he could buy a carer ticket and would be allowed in with his guide dog, but then the operations manager said the dog would not be allowed in.
He said he was told that as he was with his family, he did not need his guide dog.
"I highlighted the consequences of his actions were putting the company in legal jeopardy," said Mr Smith.
Caroline Holden, commercial manager at Santa Pod Raceway, said: "We are very sympathetic to those who need assistance dogs and we work very hard to address all equality and diversity issues. However, in relation to noise and fumes, drag racing is a unique motor sport.
"It would be unforgiveable for us to be responsible for hurting an animal which could ultimately lead to the disabled owner being left without the dog that is essential to, in some cases, their survival."
---
Guide dogs law
Guide dogs, or assistant dogs, are highly trained and instantly identified by the harness or coat they are wearing.
According to the Equality Act 2010, it is illegal if a person with a disability is treated unfavourably because of something connected with their disability, such as a guide dog, and this treatment is unjustified.
The charity Guide Dogs works with companies to ensure they follow the legal requirements.
---