Breighton Aerodrome helicopter crash victim dies, AAIB confirms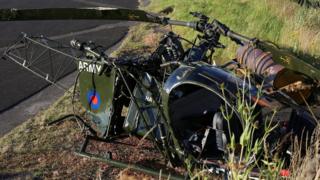 One of five men injured in a helicopter crash in an East Yorkshire airfield has died, the Air Accidents Investigation Branch (AAIB) has confirmed.
The aircraft, a former military Alouette helicopter, crashed at Breighton Aerodrome, near Selby, on 17 July during a private flight.
All five men suffered head, back, chest and leg injuries in the crash.
The AAIB said it was sending investigators to the site after "one of the persons on board passed away".
More on this and other Hull and East Yorkshire stories.
Investigators had been carrying out the inquiry by correspondence, without visiting the site.
But it said in a statement it had now become a "field investigation" following the death.
"We have appointed a team of inspectors to investigate the helicopter accident that happened in Breighton on 17 July," an AAIB spokesperson said.
The organisation said it could not release the identity of the victim until the next of kin had been informed.
Airfield owner, the Real Aeroplane Company, had said the helicopter was visiting the site and was landing when it crashed.
According to its website, a 1940's themed event had been taking place during that weekend, which was attended by private owners of classic aircrafts.
Breighton Aerodrome is a former World War Two bomber base and is home to a classic aircraft collection.