Nearly £2.5m in stowaway fines are unpaid, report finds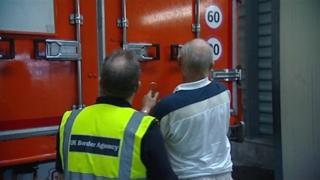 Fines of nearly £2.5m issued to lorry drivers caught with illegal migrants hiding in their vehicles went unpaid in 2014-15, according to a Home Affairs Select Committee report.
Committee chair Keith Vaz said the inability to collect penalties made "a laughing stock of our border controls".
He said the level of unpaid fines was "shameful".
The Home Office said any outstanding fines would be aggressively pursued and it would detain lorries if necessary.
Figures showed fines of £6,490,232 were issued in 2014-2015, with £4,050,139 collected, leaving £2,440,093 unpaid.
A total of 3,321 penalty notices were issued, 233 to British drivers and hauliers and 3,088 to non-UK drivers and hauliers.
£2,000 fine
Mr Vaz said: "If the government is serious about deterring people smuggling it may need to consider making this into a criminal offence."
But a Home Office spokesman said: "The civil penalty regime remains an important part of our approach to tackling illegal immigration."
Currently lorry drivers caught with illegal migrants in their vehicles can be fined up to £2,000 for each person discovered.
The report said about 40 stowaways a day were found in the Dover area last summer and it was estimated one-third of lorries arriving at the border did not have advised standards of security.
Dover MP Charlie Elphicke said: "We need to have a powerful deterrent and that's why the Home Office needs to collect these fines."
Julie Maddocks, from the Freight Transport Association, said: "Drivers know that it is in their interest to make sure they have taken every measure that is possible to ensure that their vehicles are safe.
"Whether it's fair or not, it's a question of what they have done to make sure that nobody can get on their vehicle."