Derby lads party in Reading after football goal challenge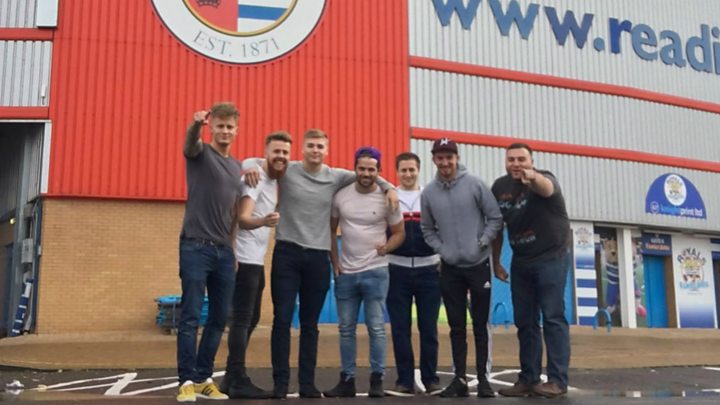 A group of lads from Derby ended up on a night out 140 miles away from home in Reading after using Saturday's football results to decide the destination for a double birthday celebration.
Norton Ahlfros-Hunt and his friends decided to travel to the town or city whose team scored the first league goal in the day's 15:00 kick-offs.
When Reading opened the scoring against Brighton after two minutes the group of eight set out for the Berkshire town.
"We had the best night", Norton said.
The friends gathered in a pub in Belper to watch the scores come in on TV and John Swift's goal for Reading beat a Burnley goal against Liverpool by seconds - sending the lads south rather than north.
The Reading revellers began their evening out in the town by posing for some photographs outside the Madejski Stadium - which by then was empty.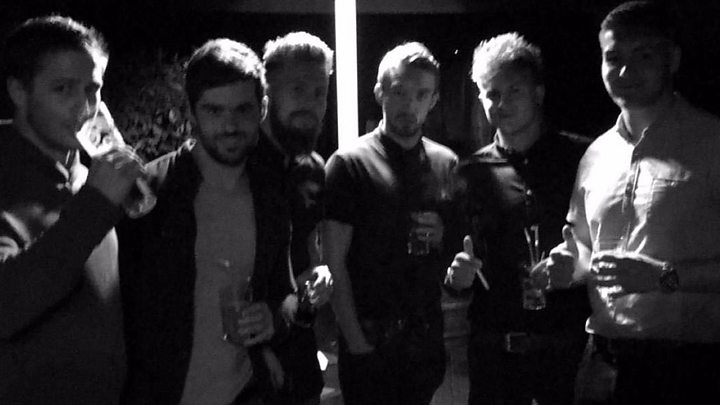 The 'Derby lad' trip to Reading
Saturday, August 20
14:00 The lads meet at a pub in Belper

15:02 Reading score the first goal

15:05 The lads leave Belper and begin their 140-mile journey to Reading

18:15 The lads arrive at Madejski Stadium in Reading

19:30 They check into the hotel and get ready for their night out
Norton Ahlfros-Hunt
Norton said: "It could have been anywhere - well almost. We decided it would have to be outside of the M25.
"We would have never normally have gone to Reading. Being from Derby, it would have been very unlikely that the group of us would have gone there for a night out at anytime."
With over 50 nightclubs and bars in Reading, the group of men in their 20s had plenty of lively locations to choose from.
If they had set their challenge a week earlier they would have ended up in the army town of Aldershot, Hampshire.