Four men jailed over 'extensive' booze fraud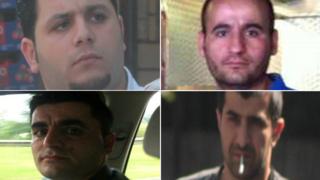 Four men have been jailed for smuggling truckloads of alcohol into the UK in a scam that cost £3.8m in lost taxes.
The branded beer was brought in via a bonded warehouse in Germany before being illegally diverted to premises across the country, said HRMC.
The alcohol was then sold on to small off-licences across Yorkshire and Lincolnshire at duty-free prices.
Judge Guy Kearl QC said: "This was a large scale, extensive, determined and sophisticated fraud."
The men, appearing at Leeds Crown Court, were all jailed after a trial found them guilty of conspiring to cheat the public revenue.
The court heard how Huseyin Zerze, 31, of Lonsdale Avenue, Doncaster, was the mastermind behind the conspiracy.
He initially used his business, Expo Cash & Carry Ltd, to run the fraud from premises in Doncaster, Liverpool and Roydon.
When custom officers raided various business premises in 2013, more than 425,000 litres of smuggled beer, worth £575,706 in duty and £68,000 in cash, were seized.
The alcohol was sold predominantly in Doncaster, Hull and Scunthorpe, said HRMC.
Zerze was sentenced to seven years in prison.
The judge said he "held the reins over the entire operation" and the fraud was "pursued with vigour to the expense of the taxpayer".
"He was the instigator of the fraud and the person responsible for the running and setting up of the fraudulent companies," he added.
Ibrahim Mayil, 38, of Sandall Park Drive, Doncaster, and Huseyin Mayil, 36, of Wheatley Hills, Doncaster, were each sentenced to five years in jail.
Ozgur Kaplan, 27, of Pringle Road, Rotherham, was sentenced to two years.
Stuart Taylor, from HMRC, said the fraud "undoubtedly harmed legitimate and hardworking businesses".
Truckloads of alcohol came into Britain without paying tax or duties in a scam known as diversion fraud.
EU imports are re-directed to the UK, without duty being paid, as a result of false documentation.