Receptionist delivers baby in Doncaster hotel car park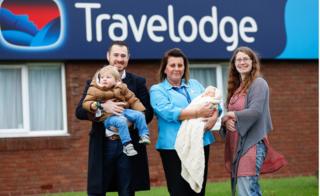 A receptionist has been praised for her help and quick thinking in delivering a baby in a service station car park.
Karen Dyas came to the aid of Heather and Matthew McSharry when Heather's waters broke on the way to hospital.
She was guided by medics over the phone, checking the baby's airways and then clamping his snapped umbilical cord with a shoelace.
Mrs McSharry said: "I cannot begin to imagine what would have happened if Karen hadn't been there."
More stories from across Lincolnshire
The McSharry family had stopped at Doncaster North Service Station on 14 October on the advice of an ambulance call handler because of the frequency of Mrs McSharry's contractions.
They were on their way from their home in Scawby, North Lincolnshire, to Leeds, where Mrs McSharry was due to give birth four days later.
'Amazing feeling'
However, Mrs McSharry went into labour as her husband and son Francis were inside and began shouting for help.
Passer-by Michael Falconer rushed into a nearby Travelodge where he found Ms Dyas and the pair went to Mrs McSharry's aid.
Ms Dyas, 46, said she had been "so scared" but tried to remember the births of her two children.
With no time to wait for the ambulance Karen took the lead and assisted Mr and Mrs McSharry to deliver baby.
"It's an amazing and remarkable feeling delivering a baby and very scary when he was not initially crying," she said.
"I was so relieved when he started to cry."
After the birth Mrs McSharry was taken to hospital.
The baby, weighing 7lb 4oz (3.3kg), was named Michael after Mr Falconer.
Mrs McSharry said: "I cannot thank Karen and Michael enough for what they did for me and my family."