Hampshire abuse video 'widely shared' by children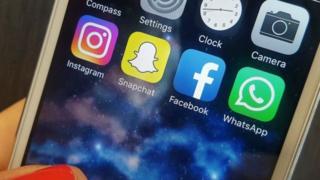 A "disturbing" video containing indecent images of two children is being "shared extensively" on social media, police have said.
Hampshire Constabulary said it had been alerted by police "across England".
The force said two Hampshire children had been safeguarded.
A 25-year-old Stockport man has been arrested on suspicion of inciting a child to engage in sexual activity and possession and distribution of indecent images.
The man, arrested in the early hours of Monday morning, remains in custody in Hampshire, police said.
Det Supt Rachel Farrell said the alleged offence involved "children that have been incited, coerced into producing and sharing inappropriate images and video".
She said the incident had had a "traumatic and devastating" impact on the family concerned.
Northamptonshire Police said it had received a number of calls on Saturday and Sunday in relation to "a disturbing video" involving a "fake social media account".
Police in Brighton issued a warning to parents and carers of a "distressing Snapchat video which many young people have been sent".
A school in Bristol asked parents on Monday to check their children's phones for "a film containing very explicit sexual imagery involving children".
Cotham School said the video had been "circulating among our students and those in other schools in the city".
Hampshire Constabulary said the images had been shared on various media platforms including Snapchat, Instagram, WhatsApp and YouTube.
It said it was an offence for people to hold or share such content, and anyone receiving the images should delete them immediately.
However, children found with the images on their phones would not be prosecuted, the force said.
Instagram said it had removed the content and its team of reviewers was searching for and removing any other copies.