Plans to fine drivers flouting smart motorway rules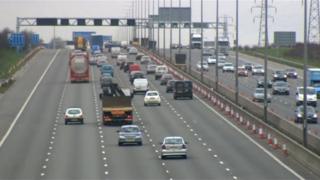 Drivers could face £100 fines instead of warning letters for ignoring smart motorway lane closures after road-side cameras were installed in a trial.
Smart motorways operate variable speed limits and can open the hard shoulder to traffic to reduce congestion.
Highways England expects penalties to be introduced from March for "dangerous" drivers ignoring red X signs on overhead gantries.
Road-side cameras to detect lane violations are now being tested.
Smart motorways are a feature of congested sections in Bedfordshire, Berkshire, Surrey, West Midlands, Avon and Somerset, Greater Manchester and the North East.
About 80,000 warning letters have been issued to drivers who have broken smart motorway rules since December 2016.
Steve Gooding, director of motoring research at the RAC, said: "We need to see a redoubling of communications by Highways England to leave no doubt in motorists' minds as to what a red X sign means.
"It's important that drivers understand that where the carriageway has been blocked by a collision or a breakdown, the price for ignoring the red X could be a lot higher than a fixed penalty notice"
A Highways England spokesman said: "We close lanes for a reason and drivers ignoring red Xs puts them and others at risk.
"Since we started issuing warning letters we have seen a decrease in the number of drivers ignoring lane closures."