North East Ambulance Service raises level to extreme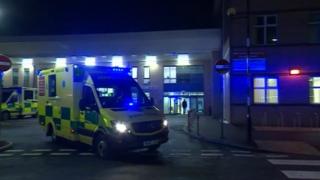 The North East Ambulance Service (NEAS) has raised its operational level to the highest possible as it handles an "unprecedented" rise in calls.
The service said its level is now extreme and is asking people to only contact them in an emergency.
Between 23 December and 1 January, the service took more than 40,000 111 calls and more than 16,000 999 calls.
That compares to about 28,000 and 15,000 respectively in the same period 12 months ago.
Paul Liversidge, the organisation's chief operational officer, appealed for people to use 999 "wisely".
NEAS said 999 should only be used for medical emergencies, such as chest pain, severe loss of blood and breathing difficulties, and has urged people with less serious problems to consult a GP or pharmacist or visit a nearby walk-in centre.
The rise in its operational level comes days after the service announced it had received a "staggering" 49% increase in calls over Christmas.
Operating at level four of the Resource Escalation Action Plan (REAP), NEAS said it was attempting to operate a normal service but its response standards to potentially life-threatening calls had "deteriorated".
As a result, it has increased the number of clinicians in its emergency operations centre, cancelled all non-essential meetings and utilised non-emergency ambulances where appropriate.
---
Analysis: Sharon Barbour, BBC Look North
On New Year's Eve the North East Ambulance Service moved to its highest possible level - extreme.
This is very rare and it really shows the pressure the paramedics are under.
We know they are taking a huge number of calls and that pressure has not eased.
What it means is a range of emergency measures - for example bringing in all available staff and possible delays to those calls that aren't life-threatening.
It may also mean calling on doctors to help the ambulance service and further help to speed up handover times to free the ambulances up quicker at hospital.
The hospitals are also under great pressure from flu and the norovirus and the advice to patients is don't go to Accident and Emergency or call 999 unless it really is an emergency.
---